Web Development
Portfolio
October 2015
---
The purpose of this portfolio website is to showcase my work as a student, from a wide range of modules. While programming and web development are my main interests, I felt that it was important to also show the wider variety of creative disciplines that I have been involved in. This website was created using HTML, CSS, JavaScript, jQuery.
Interesting Parts
---
There are a total of 20 projects available on this website. Each of the interactive one, such as websites or games, have an embedded video showing the highlights of their features.
There is a PHP contact form on the "Contact" page, which sends message directly to my personal email account. Once someone submits a message, they will then be given my direct phone number, should they wish to ring me directly.
My entire portfolio consists of this website, a hardback book containing each of my projects, a creative CV and a showreel.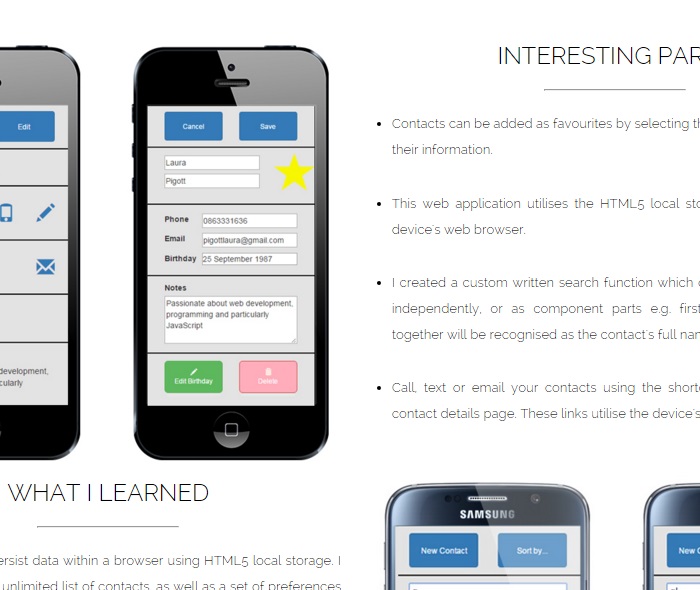 What I learned
---
I learned the importance for producing your portfolio in a wide range of mediums. I feel that my showreel helps to support my website, while my hardback portfolio is supported by my website.
The importance of consistency is always at the forefront of all my creative projects, particularly when managing it across both a digital and print medium. Each of the elements of my portfolio consist of the same fonts, colours and spacing, which I feel helps to tie them all together as one larger package.
I learned that it is important to show a wide variety of skills. Originally, I would have preferred to create an entirely code focused portfolio, but throughout my Preparation for Professional Practice module this semester, I was reminded that variety is important, which is why I chose to display a sample of projects from each are of my skillset.